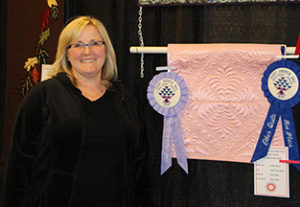 All of my Great Grandmothers were quilters, my Grandmother was a seamstress and my Mother is now also a quilter. I've had this love of sewing passed onto me through the generations. I love this artform and feel that it is a tradition that we must continue to teach and pass on for future generations. Quilts can be beautiful works of art or warm and comforting layers of love or both! I have memories from when I was a little girl of laying under a heavy quilt that my Great Grandmother made. I remember the feeling of warmth and comfort as I would snuggle under that quilt and the fascination of the tiny flower print in cranberry pink that covered the back. That quilt is long gone and I am always searching for that perfect cranberry pink fabric for the back of my quilts.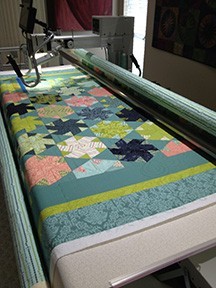 I am a self taught quilter and I have been quilting for over 25 years and discovered my love of free motion long arm quilting in 2012. I have studied painting, drawing, pottery, sculpture and theater, but now with the long arm I have found my new paint brush!
I am a free hand quilter working on my 2012 Innova 22" Long arm machine with Lightning Stitch regulator and I use Pantovision for hand guided pantograph quilting. I do not use a computer so there may be some imperfections character in my quilting, but I always strive to do my best.
Congratulations to my fabulous customers on their winning quilts at the St. Andrew Bay Quilters' Guild Quilt Shows.
Quilt Show 2018
Connie Bernhard
Latimer Farms won 1st Place and Best of Show in two persons bed size category.
Red and White Quilt won 1st place in 40th anniversary theme quilts
Linda Slinkard
Lindsay's Little Amsterdam quilt won 1st place two person Large Wall quilt pieced
Evelyn Cox
Dresden Plate – 2nd place in the two person bed size.
Aunt Bea's Parlor -1st place in the group category and it also won the Bobbie award for handwork excellence.
The embroidery was done by her daughter Stephanie Cox Wade.
Alana Yuratich
Hop to It – 1st place wall quilt appliqué
Butterfly Kisses – 3rd place 40th anniversary theme quilts
Mary Clark
Nana's Alphabet – 2nd place in Group quilts
Sweet Sixteen – 3rd place in wall quilts appliqué
Julie Gray
Log Cabin Pumpkins – 3rd place small wall quilt pieced
Convex Illusions – 2nd place two person Large Wall quilt pieced and Best Machine Quilting-Tracy Bell
Quilt Show 2017
Best of show and 1st place 2 person -Julie Gray – Paradise in Bloom
2nd Place Small wall quilts- Connie Bernhard- Primitive Snowmen
1st Place Large Wall Quilts Millie Cobb- Aunt Bea's Parlor
1st Place- Small Wall Quilts -Alana Yuratich – Fans
1st Place-Large Wall Quilts Applique- Alana Yuratich -Feathered star
2nd Place-Mary Clark – Poppies
2nd place-Sharon Pippins-Thirties quilt
3rd place-Connie Bernhard – Night Sky
Aking Osborne-Feathered Star
Quilt Show 2016
1st place 2 person Mary Clark – A Southern Album
Theme 1st Place and Viewer's Choice -Mary Clark – Cattails in the meadow-
Bed Size 2 person Honorable Mention- Aking Osborne – Feathered Star
Wall Quilts/Small Applique-Third place- Mary Clark-Heliconia
Honorable Mention- Alana Yuratich- Pretty in Pink
Wall Quilts Large Pieced 3rd Place- Connie Bernhard-Captain Brodie's Brigade
Theme Honorable Mention- Aking Osborne- A Gaggle of Geese
Theme Honorable Mention- Union Blues – Bobbie Clemens
Quilt Show February 2015
Aking Osborne-Scarlet Serenade-Honorable Mention Group Quilts
Mary Clark-Log Cabin in the Pines-Honorable Mention Large Wall/Pieced
My quilts
Tracy Bell-For My Valentine (The Mickey Quilt)-Honorable Mention Large Wall/Pieced
Tracy Bell-Shoo Fly Doll Quilt-Honorable Mention Miniature
Tracy Bell-Pearls and Swine– 1st Place Other category
Machine Quilting Excellence for Pearls and Swine by Tracy Bell
Quilt Show February 2014
Linda Carpenter – Affairs of the Heart -1st Place Group Quilts and Viewer's Choice
Bobbi Clemens- Snowmen Christmas Alphabet– 2nd Place Theme Quilts and Machine Quilting Excellence
Bobbi Clemens – Black Baskets – 3rd Place Wall Quilts/Small Pieced
Connie Bernhard – Carolina – 2nd Place Wall Quilt/ Large Pieced
Joan Oldham – Feedsack Snail's Trail – 3rd Place Group Quilts
Carolyn Pic – Third Weekend in October – 3rd Place Bed Size/Two Persons
My Quilts
Tracy Bell-Pinwheels – 1st Place Bed Size/One Person – Pinwheels
Tracy Bell-Penny-Wise – 1st Place Wall Quilts/ Small Applique
Tracy Bell-Just a Little Seaside Sonata – 2nd Place Other Category
Machine Quilting Excellence Ribbon for Bobbie Clemens Snowmen Christmas Alphabet
Quilt Show February 2013
Connie Bernhard-American Heritage-1st Place Theme/Americana
Connie Bernhard-Orange Peel– 3rd place Wall Quilts Small/Applique
My Quilts
Tracy Bell-Stepping Stones-2nd Place Wall Quilts Large/Pieced
Tracy Bell-Samper Baby Quilt – 2nd Place Wall Quilts Small/Pieced
Machine Quilting Excellence for myStepping Stones quilt