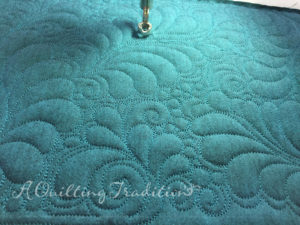 A Quilting Tradition is a long arm quilting service located in Centerville, OH. If you have tops that you have pieced, but can't find the time to quilt your layers together let me help you get those quilts finished up. I am a free hand long arm quilter working on my 2012 Innova 22" Long arm machine with Lightning Stitch regulator.
In the menu above you will find information on how to prepare your quilt for a longarm quilter to load your quilt on a longarm machine as well as information about the types of batting and thread that I have available for you, pricing, designs and my gallery so you can see a little bit of the work that I have done.
When you are ready to have your quilt top quilted contact me and we can set up an appointment to talk about your quilt top. If you do not live locally send me an email and we can discuss quilting designs via email, text or phone before you send the quilt.
Thanks for stopping by!
Tracy